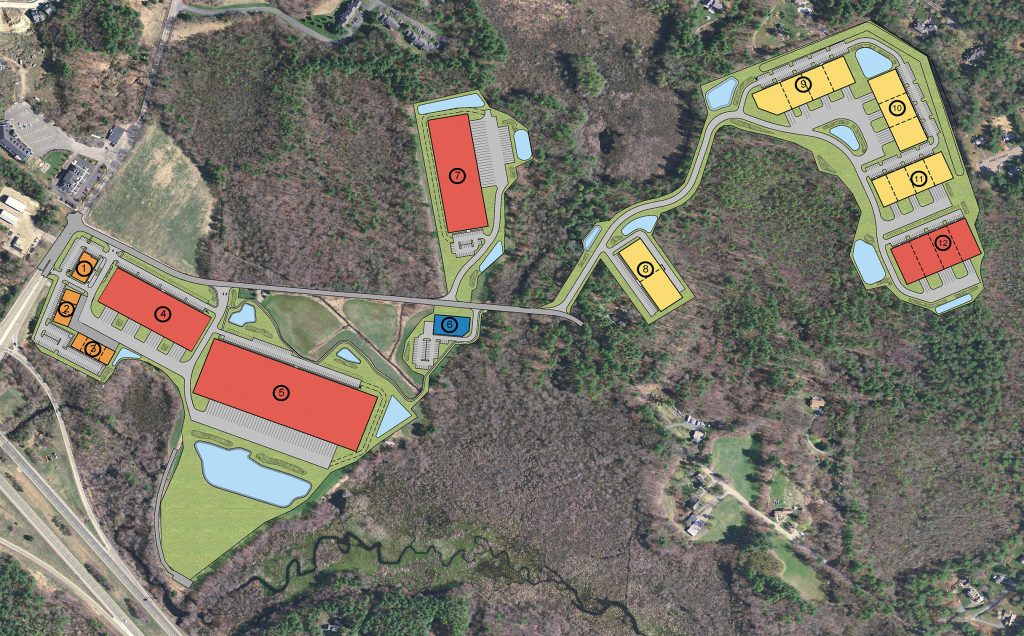 Blue Star Business Park is a premier master-planned commercial development located in Southeastern Massachusetts.
Condyne is pleased to present its newest development located in Norton, Massachusetts. The newly created business park is located off of Route 495, also known as the Blue Star Memorial Highway, and is comprised of 12 buildings totaling 887,315 square-feet that span across 190 acres. It consists of high bay warehouse, flex industrial, and ancillary retail space.
Blue Star Business Park will be one of the newest master-planned industrial parks comprised of a modern architectural design and assorted with a unified vision throughout. There are unique build-to-suit opportunities within the business park for all tenant sizes from various industries. The space is able to support organizations both large and small and provide the flexibility to support continued growth.
Blue Star Business Park is located in a business-friendly environment that enhances economic growth with access to a robust regional labor base supported with many amenities, and it is the premier place to locate an organization. The vision is all brought together with an excellent development team overseeing engineering, design, construction, and property management providing a single-source for all real estate needs.
The construction will occur in two phases; Phase I of the development will include Buildings 4, 5, 7 high-bay industrial, and Building 1 of the retail.  Phase II of the development will include Buildings 2, 3 retail, Buildings 8, 9, 10, 11 flex facilities, and Building 12 high-bay industrial.
We encourage you to review Condyne's latest offerings, request additional information and arrange a tour.